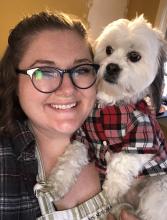 Falcon was born and raised in the Rocky Mountains of Utah. Growing up Falcon always had family pets: dogs, cats, hamsters, and bunnies. She learned at a young age the joy of having animals in her life. Falcon joined the veterinary field to help care for the community's furry friends.
When not working, Chantel and Falcon love taking their fur-baby, Fleur, to the beach or for a drive down the coast. Fleur loves car rides and even took an international road trip to Vancouver, Canada with her moms. Wherever they go on the weekends, Fleur is sure to be with them.
Falcon is happy to have joined The Animal Doctors team and to be a part of nurturing the furry family members that come here for care.