about us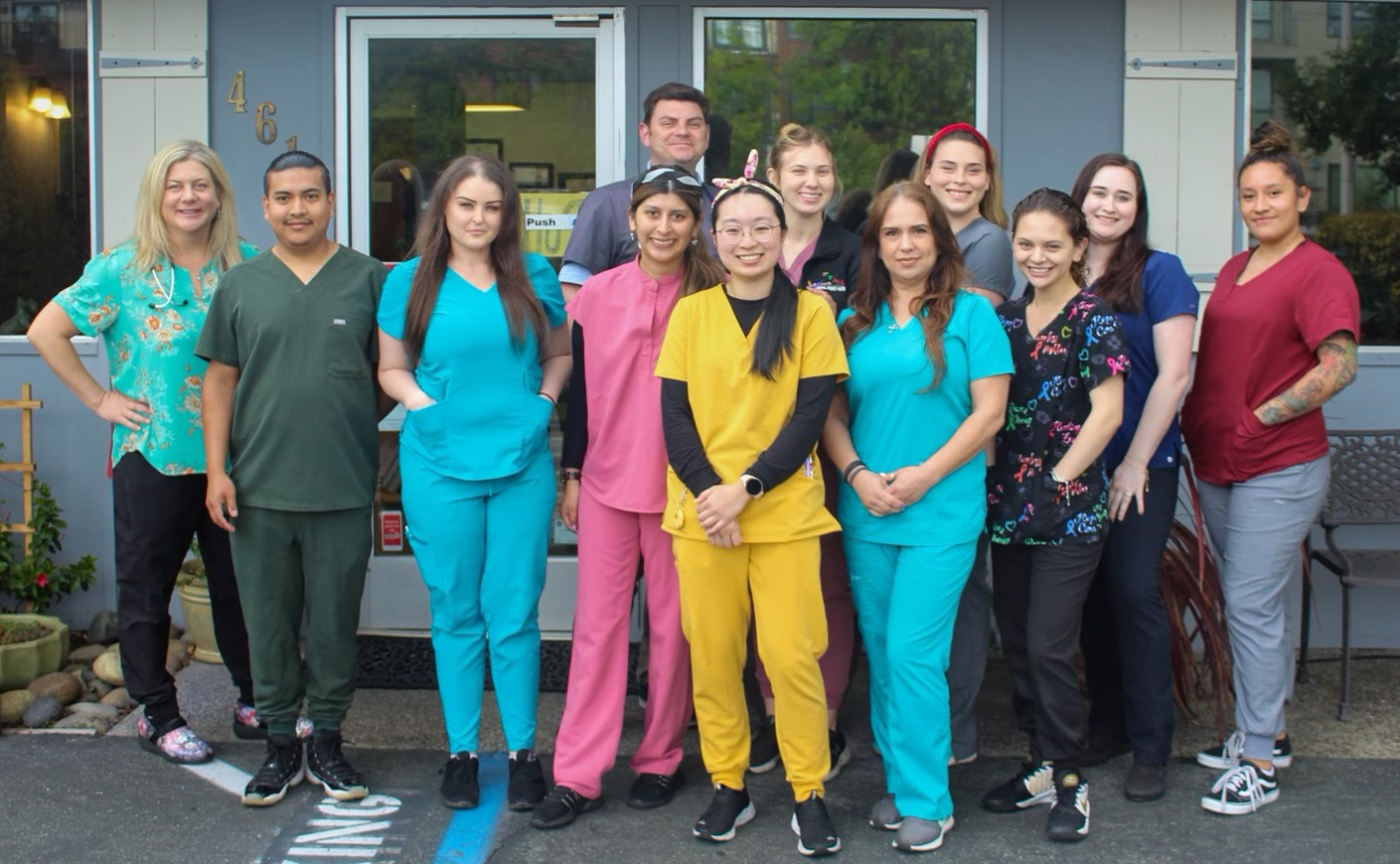 Our Mission
The Animal Doctors are committed to serving the community by devoting our love, knowledge, and hard work towards nurturing the human-animal bond. We believe in providing clear communication to allow you to make informed decisions regarding the well-being of your beloved pets.
Our History
For 40 years, The Animal Doctors have provided the highest quality of veterinary care for clients throughout the South San Francisco Bay area. With outstanding expertise and time-honed experience, they give conscientious attention to each animal they care for. From newly weaned puppies and kittens to geriatric pets, each animal—and its owner—is treated with the utmost respect, compassion, and hospitality. The Animal Doctors really do care. This is one of the reasons pet owners return to the clinic year after year, often referring friends to the practice. In fact, the largest percentage of The Animal Doctors' new clients are referrals from the many loyal clients who wouldn't take their beloved pets elsewhere.
The Animal Doctors have been AAHA-accredited since 1987, which means they are among only 15% of veterinary practices across the nation that voluntarily meet the most rigorous of standards in cleanliness, professionalism, patient care, and quality of veterinary medicine. Their exceptional primary care services include everything from annual exams and vaccinations to in-depth diagnostic procedures, on-site laboratory testing, surgery, geriatric animal care, and end-of-life hospice counseling and support. Their unique specialty services include laser therapy, endoscopy, and dental care.
For optimum diagnostics, The Animal Doctor veterinarians routinely consult with a variety of specialists, including cardiologists, orthopedic surgeons, pathologists, and behaviorists. When necessary, The Animal Doctors will refer patients to such specialists, while continuing to stay involved in the animal's healing, working in conjunction with specialists so the animal gets the best possible care and the owner is involved in the comprehensive plan.
By combining state-of-the-art medicine with the old-fashioned values of friendliness, compassion, and personalized care, The Animal Doctors have maintained a thriving veterinary practice through the decades. The practice started with excellent veterinary medicine and grew by word-of-mouth recommendations.
Testimonials
"You are all fantastic! I know whichever doctor I take my dog to, she is always in good hands. You are all positive, kind and courteous every time I'm there. For that, thank you."
"Great practice in these challenging times."
"Personal care, "small" business feel."
"Dr. Greg is very knowledgeable and compassionate with his animal clients. I value his opinion and recommendations."
"Competent, caring service. This is a friendly, personalized office. It's a wonderful place to take our pets, which we have been doing for over 30 years"
"I can trust Animals Doctor with my pets!"
"The entire staff at The Animal Doctors rocks. Our dog's face and neck got lacerated pretty badly while she was hunting a squirrel, and although the bleeding had stopped, we knew she would need stitches. Our normal veterinarian was busy and frankly did not seem very willing to help us out. We also called an emergency vet hospital, and they were also abrupt and told us we would just have to walk in and wait. We decided to try calling one more place, and despite the fact that it was mid-afternoon and we weren't regular customers, The Animal Doctors was willing to squeeze us in and take care of everything in an efficient, compassionate manner that put everyone involved at ease (our dog as well as her humans). While our dog was sedated for the stitches, they even trimmed all of her nails and dew claws as a courtesy! We were so thrilled with the experience that we are switching vets and will be going here for all of our dog's needs, routine and otherwise."
"Great staff! Took both my cat and dog in the same time and they adeptly handled the visit. Within minutes, the doctor had useful insights not provided my any of my previous vets. The staff made checkout easy and swift, including all the meds and food. Thanks!"